Commercial
Junk Removal
Service
Best Commercial Junk Removal Service Near Lincoln Nebraska Metropolitan Area
A1 Junk Removal Of Lincoln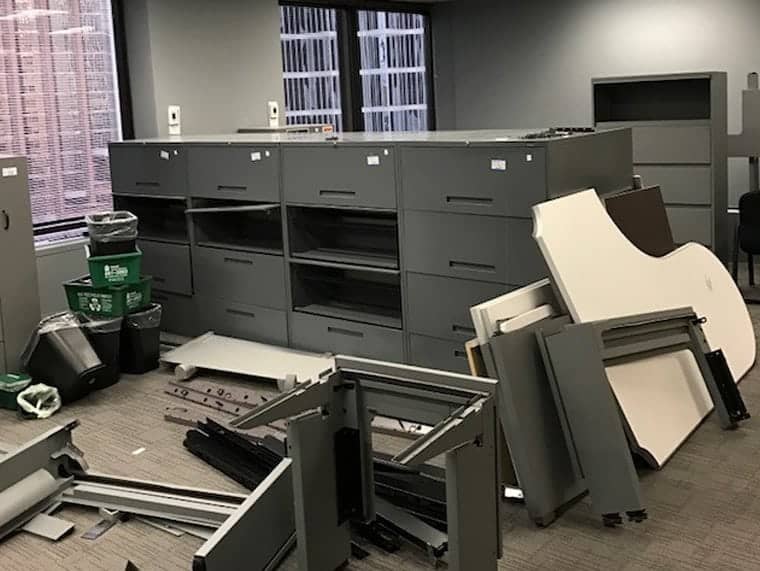 Big or Small Projects: No Problem
If you need a professional junk removal company that can handle the work load of a large business, A1 Junk Removal Of Lincoln is there for you.
Large Businesses
We have our own trucks, dumpsters, tools, and our own crew. Simply show us the area you want cleared out and let us do the rest. We'll haul away heavy equipment and clean up the debris left over from any project. We'll try to recycle or sell all material and credit your bill with the profit from the proceeds.
Small Offices
If you have a smaller office, call A1 Junk Removal Of Lincoln for fast office junk removal service in Lincoln NE. We'll remove all the old equipment and junk you want cleared out and leave your area swept clean without interrupting your workday. We'll also dispose of all e-waste properly and according to Lincoln's law.
Special Needs
If you have specific requirements such as a maximum weight limit in elevators or certain areas that do not allow dumpsters, our crews can handle your issues and will clean out your area accordingly. Our commercial and business junk removal and trash hauling team in Lincoln is trained for unique situations and we always enjoy a challenge.
Bennet NE Commercial Junk Removal near me
Firth NE Commercial Junk Removal near me
Hallam NE Commercial Junk Removal near me
Hickman NE Commercial Junk Removal near me
Lancaster County Commercial Junk Removal near me
Lincoln NE Commercial Junk Removal near me
Malcolm NE Commercial Junk Removal near me
Milford NE Commercial Junk Removal near me
Panama NE Commercial Junk Removal near me
Seward County Commercial Junk Removal near me
Seward NE Commercial Junk Removal near me
Staplehurst NE Commercial Junk Removal near me
Utica NE Commercial Junk Removal near me
Walton NE Commercial Junk Removal near me
Waverly NE Commercial Junk Removal near me
Omaha NE Commercial Junk Removal near me
Bellevue NE Commercial Junk Removal near me
Council Bluffs Ia Commercial Junk Removal near me